En Irlande du Nord, le parti nationaliste irlandais Sinn Fein participe depuis 2011 à un gouvernement de coalition composé de 6 ministres de droite et unionistes (soutenant l'Union avec la Grande-Bretagne), 2 centristes de l'Alliance Party, 1 social-démocrate nationaliste (SDLP) et 4 Sinn Fein. Il détient le poste de vice-premier ministre (le premier ministre est Peter Robinson du DUP, le parti fondé par le démagogue anti-Catholique, le révérend Ian Paisley).
En décembre 2014, SF a signé le Stormont House Agreement dont le volet social et fiscal est calqué sur la politique austéritaire poursuivie par le gou
vernement britannique de droite de David Cameron. Cet accord prévoit entre autres le vote d'un budget en équilibre en 2015, un programme de 'réforme' et restructuration du secteur public qui sera soumis à une revue par l'OECD fin 2015, et une 'réforme' du système de sécurité sociale sur le même base que celle appliquée dans le reste du Royaume-Uni depuis une loi de 2012. Suivant la signature de cet accord, l'exécutif dont fait partie Sinn Fein a décide la réduction du taux de l'impôt sur les sociétes afin de l'aligner sur celui en vigueur dans la République d'Irlande. (Le taux de l'impôt sur les sociétés est actuellement de 21% en Grande-Bretagne et de 12,5% en République d'Irlande.)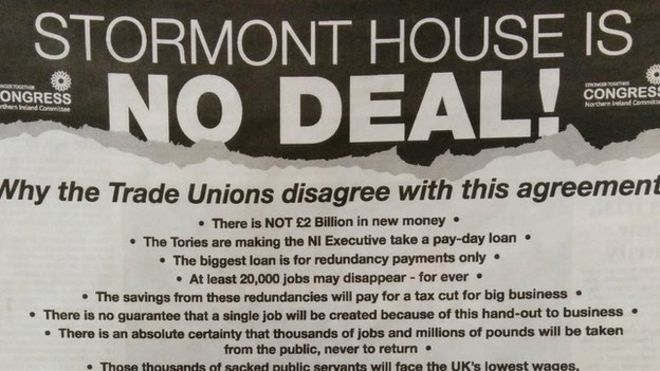 Comme dit très justement les camarades du SWP irlandais, cet accord "est l'équivalent dans le Nord du memorandum de l'UE et du FMI qui a été appliqué dans le Sud du pays depuis quelque années déjà".
Dans cet article, le SWP répond à une vive attaque contre lui qui a été publié dans le journal de SF, sur fond de grèves dans le secteur public contre les effets de l'austérité et de la dénonciation de l'accord par la centrale syndicale, l'Irish Congress of Trade Unions.
L'auteur de la polémique accuse le SWP de souffrir d'une "pathologie trotskiste" et d'agir "dans l'intérêt de la révolution permanente de Trotsky" (!) et du gouvernement de droite dans le Sud.
Le SWP pour sa part, accuse SF d'un double langage - contre l'austérité dans l'opposition dans le Sud, soutien actif à l'austérité quand il est au pouvoir, dans le Nord.
SWP reply to Eoin O Broin
Authors: Michael Collins and Shaun Harkin
A recent article by Eoin Ó Broin in Sinn Féin's An Phoblacht criticised the SWP for condemning the Stormont House Agreement, claiming socialists who put forward any arguments against their role in the North were "shouting in the service of the system".
Ó Broin's attack on Eamonn McCann is in many ways reflective of the ever growing contradictions in Sinn Féin itself. Presenting itself as a radical opponent to austerity in the South, they now face the worrying prospect of a resurgent anti-austerity movement in the North, with 50,000 workers taking strike action against the impact of the Stormont House Agreement. This is a deal agreed by Sinn Féin and the DUP, which proposes unprecedented levels of austerity, and in its own words seeks to "reduce the size of the Northern Ireland Civil Service and the wider public sector".
Yet Ó Broin is as patronising in his dismissal of the thousands of striking workers, as he is of veteran socialist Eamonn McCann for highlighting their cause. The strike, Ó Broin claims, was not against austerity per se, but only focused on two aspects of the Agreement. According to him these were; 1. The plans to reduce corporation tax to levels of the South, and 2. The 20,000 redundancies being pushed through the civil service.
It is a lazy and dishonest assessment from Ó Broin, but even more so, an insult to the thousands of workers who took part. Ó Broin has, in fact, got the elementary facts of the situation wrong. First and foremost, it is legally impossible for Trade Unions to come out on the basis that the Assembly will reduce corporation tax alone. Thatcher's anti-trade Union laws of the 1980's seen to that, and Stormont hasn't lifted a finger to try and remove these laws. There is widespread revulsion amongst Trade Unionists about Stormont's plans to reduce corporation tax, but no one was specifically balloted on it.
As for his second claim: the 20,000 civil service redundancies (which the Assembly have borrowed £700 million for) affect only one section of workers balloted. Trade Unions are correct to condemn this scheme, which will see thousands of jobs go at the cost of hundreds of millions. But it was only one aspect of why people were striking. If the strike focused solely on voluntary redundancies, how does Ó Broin explain the fact that health workers were out, INTO teachers were out, Classroom assistants were out and transport workers were out? All of these groups of workers are facing redundancies, not just civil servants.
The Stormont House Agreement is the North's equivalent to the EU-IMF Troika memorandum implemented in the South over the last few years. For that reason it has received widespread condemnation across the labour movement. The truth is Trade Unions were explicit in their reasons for taking strike action. The Irish Congress of Trade Unions took full page advertisements in every newspaper across the North stating clearly, "No-one voted for our elected politicians to do a deal like this. The Trade Unions reject the Stormont House deal. It is bad for workers, for all communities, for society, and for equality.'
Ó Broin argues that McCann and the SWP should give Sinn Féin 'tactical' support. When Sinn Féin speak against austerity, and oppose it by deed, they should be supported. But the deal agreed by Sinn Féin and the Democratic Unionist Party is an anti-working class deal. It will deepen austerity in the North. It will lay the basis for further privatisation of public services and the selling off of public assets. It will reduce the public sector so that the private sector can flourish, meaning a low wage, low tax economy for big business. The reduction of the Corporate Tax rate is not a demand of the labour movement but is a demand of profit hungry corporations.
In the North, there are daily reports on the impact of the cuts. Bus and rail services are to be reduced; library hours will be reduced; funding for arts, environment and poverty programs is being cut; student places and hundreds of teaching positions in our universities will disappear; education will suffer when teaching assistants are taken out of the classroom. This is why there is outrage. This explains why there has been mass resistance through strikes, protests, petitions and demonstrations. This explains why the resistance will continue, with Translink workers calling a day's strike action
The reason why Ó Broin has lashed out at McCann and the Socialist Workers Party is because Sinn Féin is on the wrong side of this austerity budget, and are now coming under real pressure from social movements north of the border, which expose their inherent contradictions North and South. His claims that the SWP are 'shouting in the service of the system' fail to acknowledge one crucial point: in the North Sinn Féin are part of the system, and have presided over a power sharing government since 2007, of which public sector job losses, pay freezes, PFI schemes and privatisation have all been common features.
The SWP believe that we need to develop a Left, organised on both sides of the border, with a consistent opposition to austerity across Ireland.